Long-Term Outcomes Of Manitoba's Insight Mentoring Program: A Comparative Statistical Analysis
The objective of this report is to examine the outcomes of women and their children who have been involved in the Manitoba InSight program, an intensive mentoring program for women at high risk of having children with Fetal Alcohol Spectrum Disorder (FASD). By linking the clinical data within the InSight program database to the MCHP Repository we examined outcomes both during and after the program, with over 10 years of outcomes for earlier participants. We evaluated the impact on the mental, physical and perinatal health of the women and their children and their involvement with services such as social housing, Families First, prenatal care and Child and Family Services. This report will allow for planning and support of ongoing services to this at risk population and act as a baseline for further studies into FASD and its prevention and management.
Links:
---
Comment on Social Media
---
A full list of MCHP Deliverables is available online.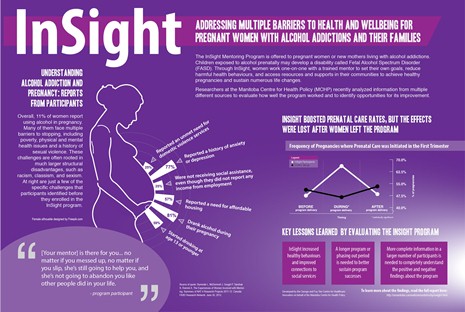 ---
** You may share this infographic online or for educational purposes as long as the following conditions are met. They must remain unaltered – this includes the cropping off of watermarks/credit on the graphics, or cropping out other parts of the graphic; they cannot be used for commercial purposes without prior permission, and attribution to the Manitoba Centre for Health Policy must be given clearly when re-sharing the graphics, and the attribution should also include a link back to the post containing the graphic. For more information about copyright guidelines, visit the University of Manitoba Copyright Office website.
Links:
---
Comment on Social Media
---
A full list of MCHP Deliverables is available online.
Contact us
Manitoba Centre for Health Policy
Community Health Sciences, Max Rady College of Medicine,
Rady Faculty of Health Sciences,
Room 408-727 McDermot Ave.
University of Manitoba
Winnipeg, MB R3E 3P5 Canada