Supportive Housing for Seniors: Reform Implications for Manitoba's Older Adult Continuum of Care
The older adult care continuum is generally comprised of home care services, community-based supportive housing, and personal care homes (PCHs). This research examines supportive housing and PCH use in the Winnipeg Health Region, first by identifying the proportion of newly admitted PCH residents who are clinically similar to most supportive housing tenants. We also compare some additional features of these groups, such as differences in user fees paid, differences in people's informal support networks, and differences in their healthcare use patterns. Collectively, this research helps to define the potential for expanding supportive housing as an alternate to PCH use in Winnipeg, and identifies some of the more salient reform strategies required to help make this work.
Links:
---
Comment on Social Media
---
A full list of MCHP Deliverables is available online.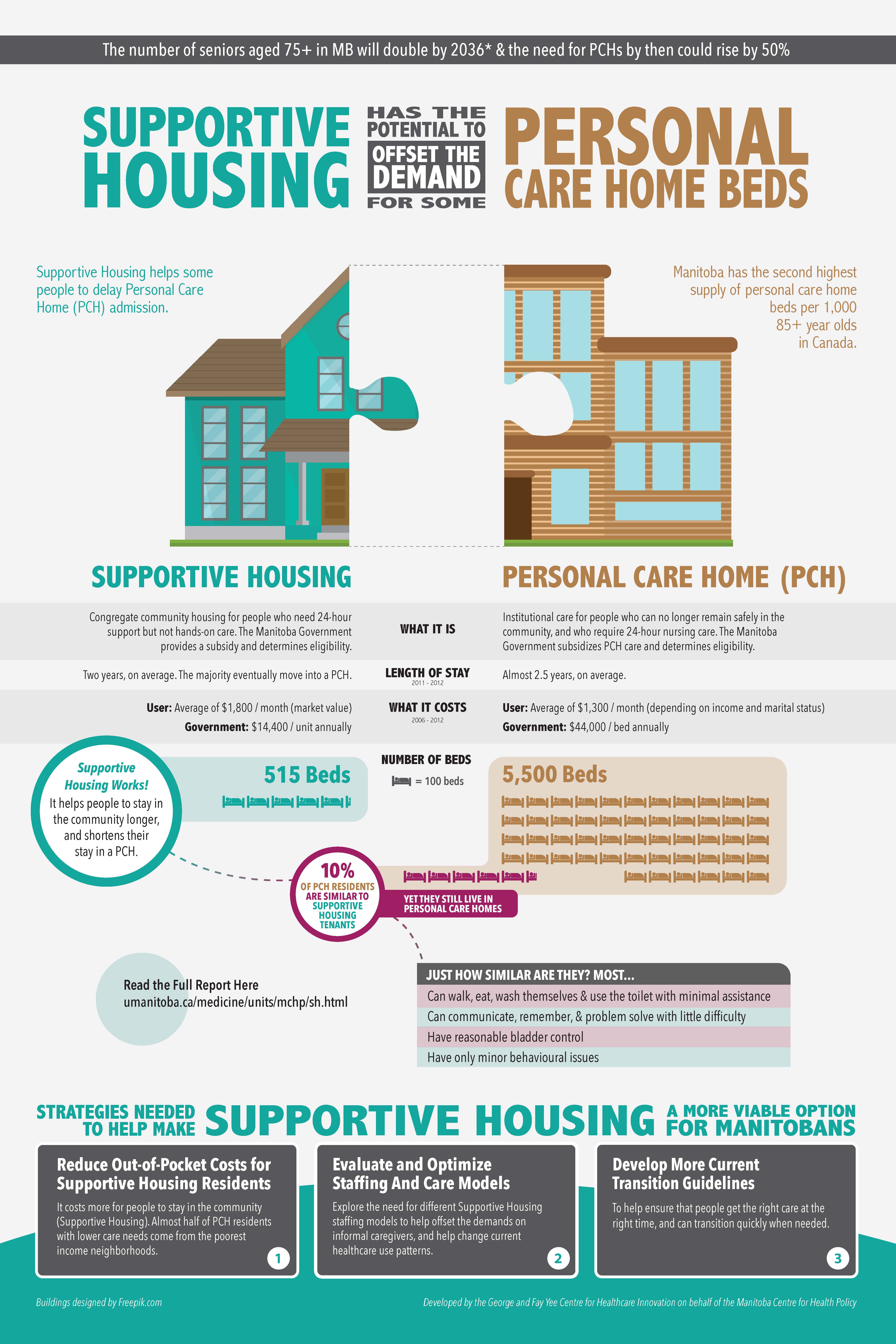 ---
** You may share this infographic online or for educational purposes as long as the following conditions are met. They must remain unaltered – this includes the cropping off of watermarks/credit on the graphics, or cropping out other parts of the graphic; they cannot be used for commercial purposes without prior permission, and attribution to the Manitoba Centre for Health Policy must be given clearly when re-sharing the graphics, and the attribution should also include a link back to the post containing the graphic. For more information about copyright guidelines, visit the University of Manitoba Copyright Office website.
Links:
---
Comment on Social Media
---
A full list of MCHP Deliverables is available online.
Contact us
Manitoba Centre for Health Policy
Community Health Sciences, Max Rady College of Medicine,
Rady Faculty of Health Sciences,
Room 408-727 McDermot Ave.
University of Manitoba
Winnipeg, MB R3E 3P5 Canada