Outpatient Oral Anticancer Agents in Manitoba
Most Manitobans who receive treatment for cancer do so with intravenous therapy at Cancer Care Manitoba. However, in recent years, the use of oral anticancer agents has increased. Traditionally, prescriptions for these medications are filled at community pharmacies through the usual system of prescription drug coverage, including a deductible for eligible Pharmacare prescriptions. In 2012, the Home Cancer Drug (HCD) Program was launched. This is a program for Manitobans diagnosed with cancer that allows access to eligible outpatient oral cancer and specific supportive care drugs at no cost to the patient (with no deductible). This research project sought to determine usage of oral medications in Manitoba, changes in patterns of use and prescription filling over time, and the impact of the HCD program on prescription filling patterns. Using prescription drug data for outpatients we examined prescription utilization trends, costs associated with such therapies and patterns of health services use.
Links:
---
Comment on Social Media
---
A full list of MCHP Deliverables is available online.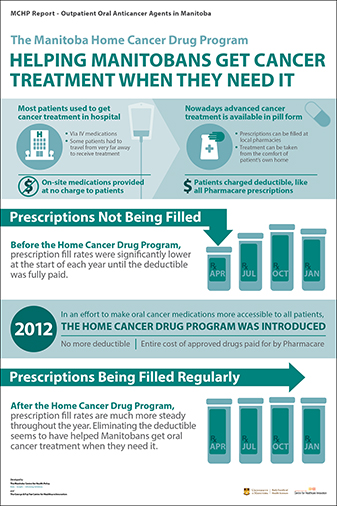 ---
** You may share this infographic online or for educational purposes as long as the following conditions are met. They must remain unaltered – this includes the cropping off of watermarks/credit on the graphics, or cropping out other parts of the graphic; they cannot be used for commercial purposes without prior permission, and attribution to the Manitoba Centre for Health Policy must be given clearly when re-sharing the graphics, and the attribution should also include a link back to the post containing the graphic. For more information about copyright guidelines, visit the University of Manitoba Copyright Office website.
Links:
---
Comment on Social Media
---
A full list of MCHP Deliverables is available online.
Contact us
Manitoba Centre for Health Policy
Community Health Sciences, Max Rady College of Medicine,
Rady Faculty of Health Sciences,
Room 408-727 McDermot Ave.
University of Manitoba
Winnipeg, MB R3E 3P5 Canada