Mental Illness Among Adult Manitobans
Mental illness is prevalent across Manitoba and Canada. Statistics Canada reports that 20% of Canadians will experience a mental illness in their lifetime. This Manitoba report provides valuable background information on the burden of mental illness in the province and some insight into the longer-term associations between childhood/adolescent mental illness and adverse adult outcomes. Specifically, we examined the diagnostic prevalence of mental illness among adults in Manitoba, as well as the healthcare use and justice system involvement of adults with mental illness. To address the mental health needs of certain populations who may be at higher risk of mental illness, this report presents the prevalence in specific populations of Manitoba. A cohort of Manitobans born in the province was also developed to examine the relationship between childhood/adolescent mental disorders and adverse adult outcomes. The findings of this report will be important for planning services and programs to diagnose and treat mental illness. Coordinating services among government departments, including health, social services, education and justice, will also go a long way towards ensuring better care for Manitobans at risk for and suffering from mental illness. Finally, supporting mental health research is an essential part of understanding what works and what is needed to strengthen mental health services for Manitobans.
Links:
---
Comment on Social Media
---
A full list of MCHP Deliverables is available online.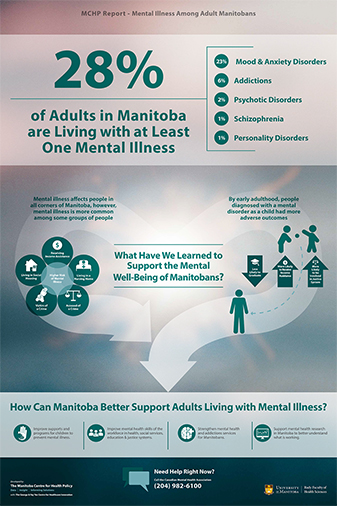 ---
** You may share this infographic online or for educational purposes as long as the following conditions are met. They must remain unaltered – this includes the cropping off of watermarks/credit on the graphics, or cropping out other parts of the graphic; they cannot be used for commercial purposes without prior permission, and attribution to the Manitoba Centre for Health Policy must be given clearly when re-sharing the graphics, and the attribution should also include a link back to the post containing the graphic. For more information about copyright guidelines, visit the University of Manitoba Copyright Office website.
Links:
---
Comment on Social Media
---
A full list of MCHP Deliverables is available online.
Contact us
Manitoba Centre for Health Policy
Community Health Sciences, Max Rady College of Medicine,
Rady Faculty of Health Sciences,
Room 408-727 McDermot Ave.
University of Manitoba
Winnipeg, MB R3E 3P5 Canada