Care of Manitobans Living with Chronic Kidney Disease
Rates of kidney failure or end stage kidney disease (ESKD) have been steadily increasing with the prevalence of diabetes and the aging population in Manitoba. The purpose of this report was to gain a greater understanding of chronic kidney disease (CKD) and ESKD in adults and children in the province. The findings will provide background knowledge to prevent new cases of CKD, to intervene early to slow the progression to ESKD and to plan resources for kidney health services in the future. Manitoba Health, Healthy Living and Seniors asked Manitoba Centre for Health Policy to answer the following research questions: a) What are the future needs for kidney health services (peritoneal dialysis, home hemodialysis, in-centre dialysis and kidney transplant) in Manitoba? b) What is the geographic distribution of this population? c) What are the characteristics of the future population of Manitoba residents who will require renal replacement treatment? d) What preventive, screening, and education measures and affiliations with existing programs, might reduce the number of Manitobans who will require dialysis?
Links:
---
Comment on Social Media
---
A full list of MCHP Deliverables is available online.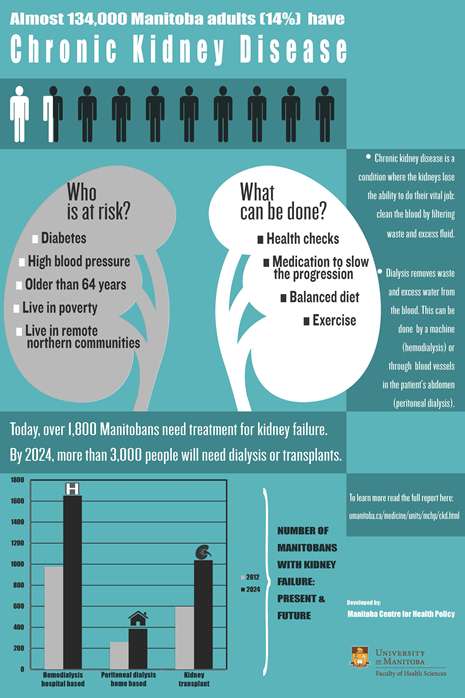 ---
** You may share this infographic online or for educational purposes as long as the following conditions are met. They must remain unaltered – this includes the cropping off of watermarks/credit on the graphics, or cropping out other parts of the graphic; they cannot be used for commercial purposes without prior permission, and attribution to the Manitoba Centre for Health Policy must be given clearly when re-sharing the graphics, and the attribution should also include a link back to the post containing the graphic. For more information about copyright guidelines, visit the University of Manitoba Copyright Office website.
Links:
---
Comment on Social Media
---
A full list of MCHP Deliverables is available online.
Contact us
Manitoba Centre for Health Policy
Community Health Sciences, Max Rady College of Medicine,
Rady Faculty of Health Sciences,
Room 408-727 McDermot Ave.
University of Manitoba
Winnipeg, MB R3E 3P5 Canada