Describing Patient Populations for the My Health Team Initiative
The province of Manitoba is in the process of restructuring primary care through the development of My Health Teams, which are networks consisting of primary care providers (physicians and nurse practitioners) and other professionals from health or related disciplines (e.g., dieticians, mental health counsellors, social workers). This study describes the patient populations that current or future My Health Teams could expect to provide care to. We examined where patients access primary care in relation to where they live in order to provide a more accurate description of patient populations. We also examined if patients were high users of services, medically complex, or socially complex. The last category addresses the social determinants of health and this is the first study to apply these social complexity indicators across the province. In addition, we examined the overlap between these three types of patients to determine how distinct patients with social complexities and medical complexities were, and whether these patients were also high user of services.
Links:
---
Comment on Social Media
---
A full list of MCHP Deliverables is available online.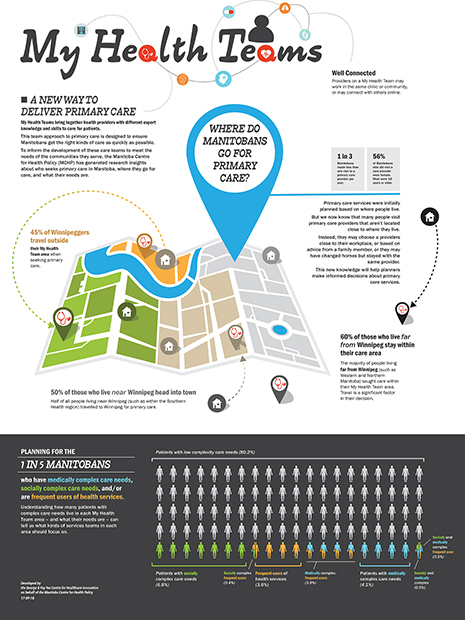 ---
** You may share this infographic online or for educational purposes as long as the following conditions are met. They must remain unaltered – this includes the cropping off of watermarks/credit on the graphics, or cropping out other parts of the graphic; they cannot be used for commercial purposes without prior permission, and attribution to the Manitoba Centre for Health Policy must be given clearly when re-sharing the graphics, and the attribution should also include a link back to the post containing the graphic. For more information about copyright guidelines, visit the University of Manitoba Copyright Office website.
Links:
---
Comment on Social Media
---
A full list of MCHP Deliverables is available online.
Contact us
Manitoba Centre for Health Policy
Community Health Sciences, Max Rady College of Medicine,
Rady Faculty of Health Sciences,
Room 408-727 McDermot Ave.
University of Manitoba
Winnipeg, MB R3E 3P5 Canada