Concept: Premature Mortality Rate (PMR) - Exclusion of Long Term Care (LTC) Facilities and Personal Care Homes (PCH)
Concept Description
Last Updated: 2012-05-01

Introduction
The premature mortality rate (PMR) is one of the most commonly used indicators of health status of a population. When the population being examined is defined by a geographic area, one must make many considerations regarding exclusions. MCHP has previously identified the Winnipeg Office of the Public Trustee and Child and Family Services (internal access only) as problem postal codes for identifying geographic locations, because the people listed with these postal codes do not actually reside in the area. Another issue for geographic analyses, particularly small area analyses, is the presence of acute care institutions for the elderly and of Personal Care Homes.
PMR and Long Term Care Facilities
Preliminary work on the Community Centre Areas (CCAs) in Winnipeg revealed very high premature mortality rates for particular CCAs that were not expected. These areas contained long term care facilities that provide assessment and treatment, rehabilitation, chronic and personal care.

The Deer Lodge CCA contains the Deer Lodge Centre. The postal code R3J 0L3 is used solely for the Deer Lodge Centre, and is the only postal code for the Centre. Likewise, the 1996 enumeration area 46011065 also exclusively refers to the Deer Lodge Centre. Of the 355 residents in the enumeration area, all are over the age of 50 and 80% are over the age of 70.

The Riverview Health Centre is part of the Riverview CCA. The postal code R3L 2P4 and 1996 enumeration area 46013060 refer to this institution. The inclusion of these postal codes and enumeration areas can have a drastic effect on the calculation of the PMR for the area, and alter the observed relationship between PMR and the Socio-Economic Factor Index (SEFI) .
Graph of PMR and SEFI for 72 Community Centre Areas with the Deer Lodge Centre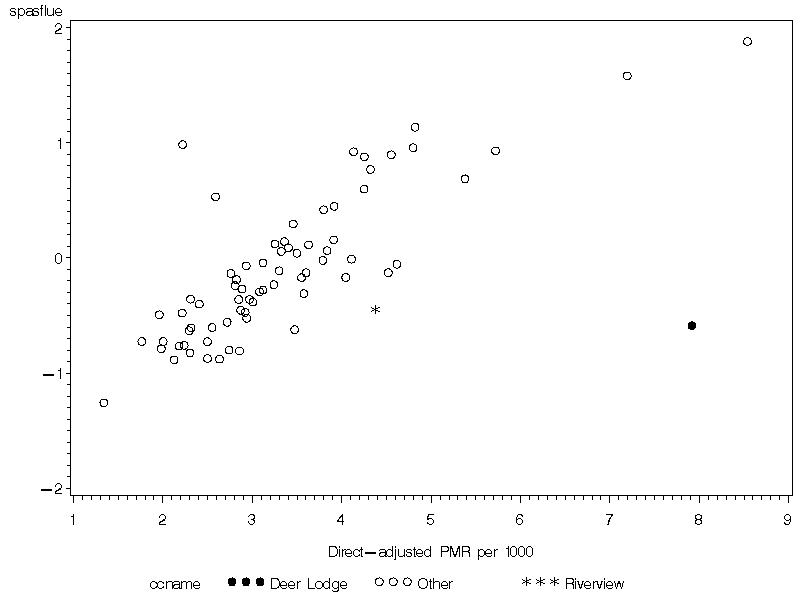 Graph of PMR and SEFI not including Deer Lodge Centre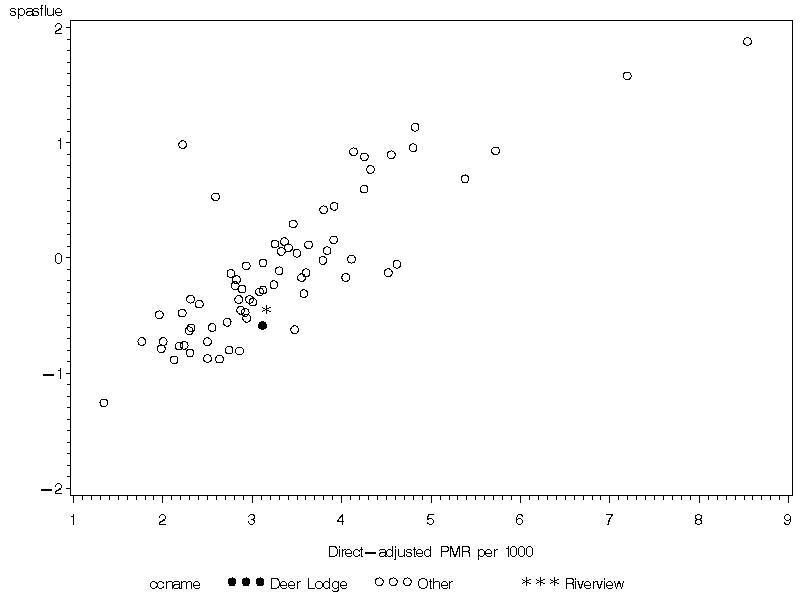 Personal Care Homes
Another concern may be whether or not to include Personal Care Homes (PCH) in the calculation of rates, income quintiles, and the SEFI. A list of hospital and PCH names and locations is available from Charles Burchill. Postal Codes and Municipal codes for each institution are also in the SAS system formats (hpostf, hspmunf).
Related concepts
Related terms
References
Keywords
Contact us
Manitoba Centre for Health Policy
Community Health Sciences, Max Rady College of Medicine,
Rady Faculty of Health Sciences,
Room 408-727 McDermot Ave.
University of Manitoba
Winnipeg, MB R3E 3P5 Canada